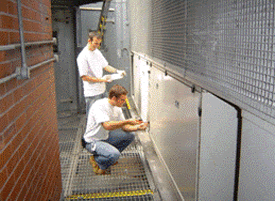 ENGINEERS
Parker Air Conditioning Engineers are employed directly by the company.
We are proud to confirm that all our staff are experienced and trained in their field of expertise and are competent to carryout the tasks assigned to them.
The average length of employment is 17 years, which provides stability to the company and a vast amount of experience. The Engineers would be pleased to visit your premises to put to use their expertise.
Our mobile engineers provide an essential backup, bringing additional expertise to the site based engineers.
Engineers attend courses to keep their qualifications up-to-date and improve their knowledge of new equipment.
Parker Air Conditioning take safety very seriously and this is passed on throughout the company and it's sub-contractors. All Engineers carry SKILLcards and attend regular safety training.
We are committed to provide in conjunction with our employers, the safest possible working conditions, identify risks and eliminating them.